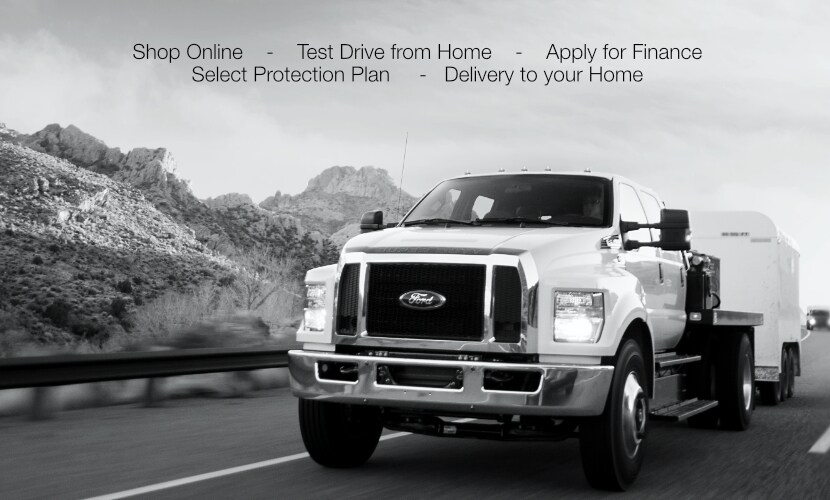 Commercial Vehicles for Sale at Bayshore Ford
When you're shopping for commercial vehicles, we're sure you'll want a buying process that makes it more convenient. What's more convenient than shopping, applying for financing, and setting up a delivery for your home or place of business? You can get everything done from your home or office and get your business the vehicles it needs to perform in New Castle, DE. Let's show you how we bring Bayshore Ford to your door.
Bayshore Ford to Your Door
Step One: Apply for Financing
Financing your vehicle or vehicles doesn't have to be difficult with us. We go to extra lengths to make sure you're confident before you apply. That's why you'll be able to check your credit score before you apply for financing-for free. You'll know exactly where you stand when it comes to your credit. So, you'll avoid potential disappointment when applying and have a straight path to your commercial vehicles.
But, even if your credit score is lower than you thought, there are other ways to help. Our finance associates work with customers on opposite ends of the spectrum. They'll do everything they can to find a lender that fits your credit score and your budget in Upper Darby and West Chester, PA. After you get your credit score and pre-approval, you'll have the freedom to shop with confidence and find the vehicles that will power your business.
Step Two: Shop Online
When it comes to work vehicles, we've got a wide variety of selections that are locked, loaded, and ready to go today. Do you need a Ford F-59 Step Van/Walk-in? We've got it in our inventory. How about a Ford F-550 Regular Cab DRW? Yes, we've got that, too. Here is a look at the body types for our large inventory of new work trucks.
Dump Body
Stake Bed
Service Body
Dry Freight
Cutaway Van
Empty Cargo Van
Upfitted Cargo Van
Passenger Wagon
Pickup
Landscape Dump
Platform Body
Refrigerated Body
Contractor Body
Combo Body
Other/Specialty
Welder Body
Wrecker Body
Mechanics Body
Step Three: Set Up Your Test Drive from Home
Once you've made a selection, we'll bring it to your home or business for a test drive. Get a good feel for your work truck and ensure that it'll be capable of handling your clients in Newark, DE. Skip the hassle of coming into any dealership in the New Castle area and let us do the hard work for you. That way, you can spend your time handling things that matter more-like your other pressing business needs.
Step Four: Home Delivery
When everything is wrapped up, then it's time for your vehicles to be delivered to your home for good. You'll set up the best time and location to deliver your vehicles, and we'll get them to you as soon as possible. It's as easy as it sounds.
Extreme Convenience at Bayshore Ford
We want you to get what you need, how you want it, and when you want it. Your business deserves some of the best, most capable trucks in New Castle, DE. That's why when you shop at Bayshore Ford, we bring everything to you, from our friendly service to your selected vehicles.
Let Bayshore Ford bring our business to your door with our premium online commercial vehicle delivery. Our inventory is stocked with high-caliber work vehicles that are capable of handling any job in the city. Shop today and give your business the power it needs.
Make an Inquiry
* Indicates a required field