Here in the greater New Castle, DE area, fall is always full of festivities, from the tricks and treats of Halloween to spending time with our family, favorite foods, and of course...football teams on Thanksgiving. In fact, fall is one of our favorite times of year here at Bayshore Ford Truck Sales, which is why we're hosting our own Fall Festival next Saturday, October 20th, and we promise you won't want to miss out on all the great fun and even greater deals on Ford service at our Quick Lane®.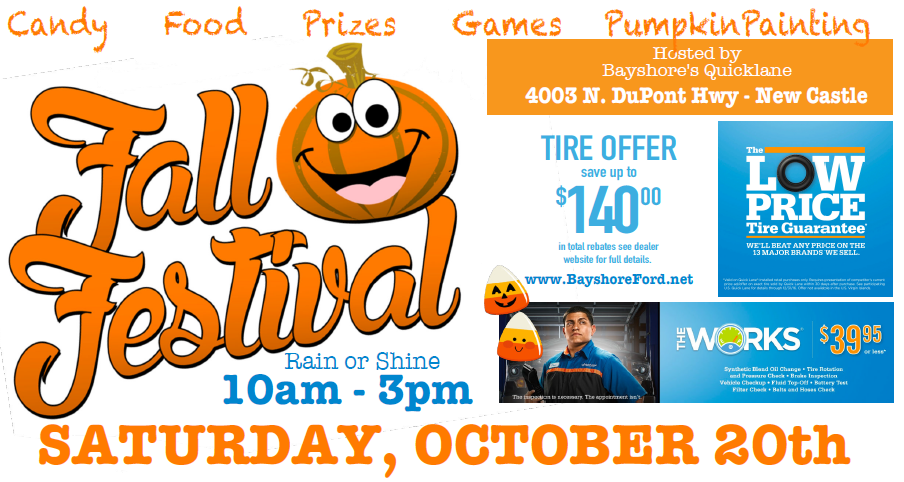 Running from 10 A.M. to 3 P.M. on Saturday October 20th, our Fall Festival at Bayshore Ford Truck Sales promises to have a little bit of something for everyone. We'll have great activities for the kids, with fun games, fantastic prizes and candy, and even pumpkin painting for some spooky Halloween fun!
And for the adults, we've got some great opportunities to save on Ford tires and service. Our Ford Quick Lane® is offerings some fantastic seasonal deals on Ford tires, so if you're looking to pick up a fresh set of snow tires before winter gets here, there's no better time to do it. In fact, we're going to be offering a Low Price Tire Guarantee*, meaning we'll beat any price on the 13 major brands we sell. How cool is that?
Of course, even if you're not in the market for new tires for your Ford truck right now, we think you'll find there's still plenty of great reasons to stop in for our Fall Festival. In addition to our great deals on Ford tires, we're also having a special on The Works® service for $39.95 at our Quick Lane®, which includes a synthetic blend oil change, tire rotation, brake inspection, battery test, and more. The Works® is a great way to make sure your car is in great shape for all your family's fall adventures ahead, and you won't even need an appointment to take advantage of the offer.
So, if you're looking to enjoy a Saturday of family fun and still get that car care that you've been putting off taken care of, why not kill two birds with one stone and swing by our Fall Festival at Bayshore Ford Truck Sales? We'll be kicking off, rain or shine, right at 10 A.M. on Saturday, October 20th, and we hope to see you there!
*Save up to $140.00 in total rebates. See dealer for full details.