What is a Commercial Vehicle?
You know that when you need a capable truck to handle life's toughest jobs, there is no brand better than Ford. Through decades of reliable service and careful design, these work trucks and commercial vans in New Castle DE have maintained their ability to support the need of your growing business. A commercial truck or van for sale near Upper Darby can allow you to get further with your jobs by offering unyielding support and sturdy performance you can count on.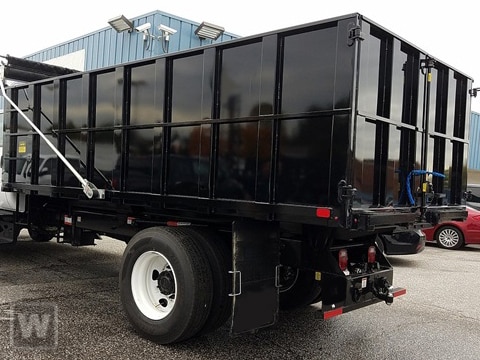 Through the years, you've seen what these work trucks and commercial vans can do - you've seen them in action firsthand. These vehicles are everywhere, and that's no coincidence. The people who use these models understand that they have what it takes to go the distance and give your business a leg up in delivering on its promises. Whether you work in construction, landscaping, or delivery service, there's nothing better than having the confidence in your commercial vehicle to make it to your destination. When your customers are happy, your business thrives and grows, and a Ford commercial van or work truck is ready to make that happen.
Browse Our Commercial Vehicle Inventory in New Castle, DE
You know a Ford truck like the F-150 can offer a certain level of power, but when you need to take it a step further for your business, you need a commercial vehicle or work truck. Models like the Ford F-250, F-350, F-450, and F-550 for sale near West Chester PA have what you need to make the most of your hours on the job. These trucks are built with tough towing and hauling capacity and can be customized with the cab style, roof height, and driveline to suit your business's needs.
For the business that needs extra space for hauling goods, cargo, and more, our selection of commercial vans like the Ford Transit 150, Transit 250, Transit 350, and Transit Connect for sale near Wilmington DE can give you what you need. The versatility of these vans is beyond compare, offering varying lengths, drivelines, transmissions, roof heights, and chassis types. When you need a vehicle that goes above and beyond to deliver durable convenience and support for your work needs, the Ford commercial truck and van lineup is the place to be.

Schedule a Commercial Vehicle Service Near Upper Darby Today
Since your Ford Transit van or F-350 work truck is for a certain sort of driver, and not everyday use, it requires specialized care here at our Ford service center near Newark DE. Our team of trained technicians can diagnose and repair the typical ailments that may occur with use or unforeseen circumstances. We also offer routine maintenance that will involve only Ford Commercial and Work Truck parts to give you the best fit.
Independent shops may try to persuade commercial truck drivers to bring the vehicle to them with low prices and specials. Still, they're not capable of offering the same level of knowledge or expertise that our Ford Service Team can provide to you. Not only do the other shops have less insight into the inner workings of your work truck, but they don't stock the exact parts that your vehicle was built with, meaning they'll use aftermarket parts that may quit long before you're ready for them to do so.
Visit Our Commercial Truck & Van Dealership to Learn More or Test Drive Your Next Great Vehicle
When you're ready to see the versatile and powerful commercial trucks on our lot, you can visit our team and take a test drive or discuss the ordering process to get what you need. Making your business grow is what we do, and finding a Ford Commercial Work Truck is just the beginning of a great partnership. Contact us today with questions about the financing process.