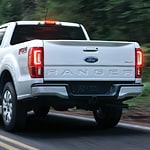 The Ford Ranger is known for its tremendous power on and off the road. There has been increased incorporation of technology to Ford Ranger for drivers in New Castle, DE to have a better experience. Bayshore Ford Truck Sales Ford Ranger dealership has been on the forefront to equip you with the required reviews for this power-filled automobile.
The truck is equipped with Trail Control to maintain a certain course by managing the throttle and braking wheels separately. Additionally, it has a Terrain Management System to facilitate movement in moderate or heavy terrain. Its auto high beam headlights help navigate through dark and lonely roads. It has FordPass Connect, a digital control feature for receiving the Ranger notifications direct from your mobile device.
More on these features can be experienced with the pre-sale activities in Bayshore Ford Truck Sales. Book an appointment with us at any of our showrooms in New Castle, DE for a more detailed review to help in your decision making.